Frontiers Health 2023 is an unmissable event for anyone involved in digital healthcare innovation. Through the conference and the efforts made during the past 7 editions, it has been possibile to position the digital health ecosystem among the leading global players.
Steering Committee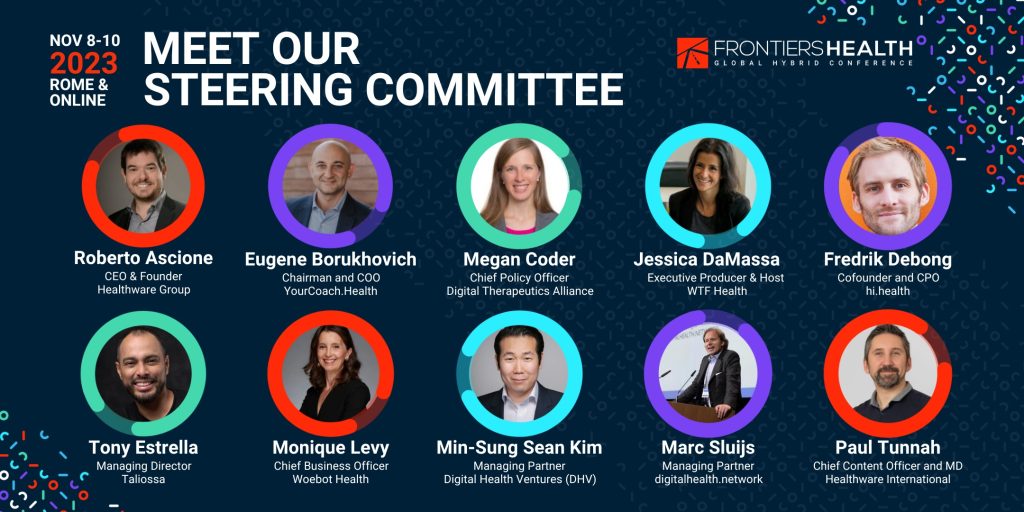 This success was made possible thanks to the significant contribution of the Steering Committee, composed of key players in the digital innovation in healthcare. The Steering Committee will bring its experience and expertise to make Frontiers Health 2023 an even more remarkable event than previous editions.
From 8 to 10 November, Rome will become the stage for innovation, bringing together brilliant minds and revolutionary ideas.
Roberto Ascione, CEO and Founder of Healthware Group, will lead the Steering Committee for the eighth consecutive year as Conference Chair. We will also meet other leading figures in Digital Health such as Eugene Borukhovich, CEO and COO of YourCoach.Health; Megan Coder, Chief Policy Officer of the Digital Therapeutics Alliance; Jessica DaMassa, Executive Producer & Host for WTF Health; Fredrik Debong, Co-Founder and CPO of hi.health; Tony Estrella, Managing Director of Taliossa; Monique Levy, Chief Business Officer of Woebot Health; Min-Sung Sean Kim, Managing Partner of Digital Health Ventures (DHV); Marc Sluijs, Managing Partner of digitalhealth.network; and Paul Tunnah, Chief Content Officer and Managing Director of Healthware International.
Frontiers Health 2023's Steering Committee defines the general themes of the conference program and brings well-known international experiences. Frontiers Health is not only an event for sharing innovative content, but also a platform for establishing relationships in the vast ecosystem of digital health. Frontiers Health has created over the years a network of experts and professionals who share the passion for innovation in healthcare and the search for sustainable solutions for human health's future.
FH23 Ambassadors
The FH23 Ambassadors are enthusiastic professionals passionate about Digital Health. They spread the message of innovation and promote the conference program. This group of professionals shares the common goal of improving healthcare through digital innovation.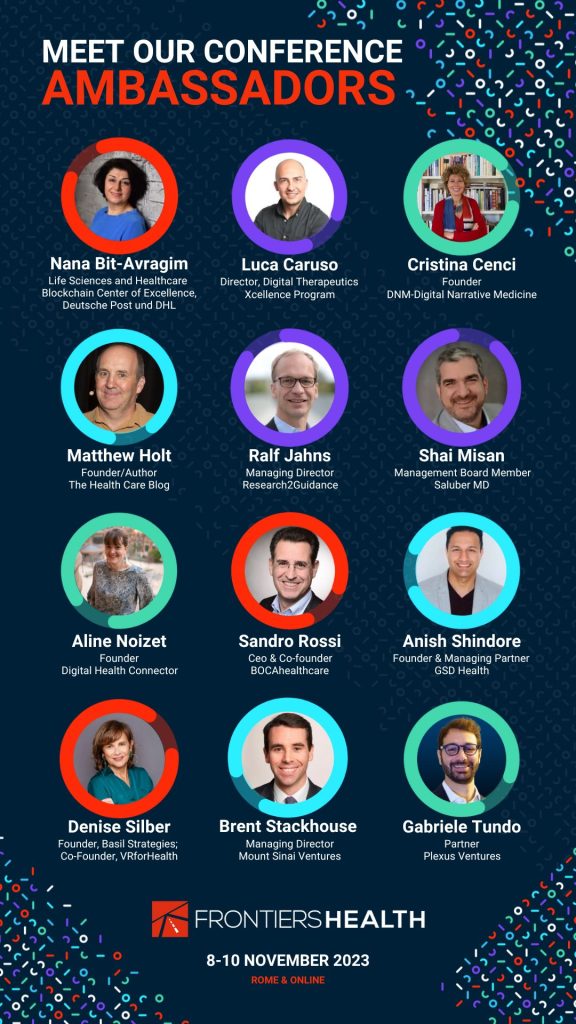 Frontiers Health 2023 is the perfect opportunity to exchange ideas, create new connections and discover the latest trends and innovations in digital health.
If you want to be part of this extraordinary experience, don't miss Frontiers Health 2023 from 8 to 10 November at the Auditorium della Tecnica in Rome & Online. As a Media Partner of the event, we offer our readers a 20% Discount. Get your FH23 pass using our exclusive promo code FH23DHB20!
---
More content on FH23