This is part of a series dedicated to Digital Therapeutics, by Jovan Stevovic, CEO and founder chino.io
No specific legal regulation exists on DTx in the EU at the moment. National regulatory frameworks regulate the specific use of digital therapeutics, proposing their own regulatory standards and requirements. The result is a fragmented regulatory landscape that can create challenges for companies and startups working in the DTx ecosystem:
Increasing development costs due to last-minute fixes or wrong development frameworks.
Delays in the go-to-market due to long-term certification approvals or slow development process due to the necessity of building compliant toolkits from zero.
Complexities in keeping compliance updated and increasing efforts needed to do it.
Germany's Digital Health Apps program (DiGA) is often cited as a model for other countries to replicate in the way it fast-tracks reimbursement following certification. Belgium's mHealthBELGIUM and a similar scheme under development in France are both following in DiGA's footsteps. 
But despite all this progress, significant barriers to reimbursement remain.
Today, every country is unique, and the reimbursement framework must fit in with existing national systems.
DiGA's Fast-Track Process in Germany
A DiGA is a digital health application eligible for reimbursement under Germany's DVG law.
Germany classifies DTx as digital health apps, and the BfArM provides assessments for access to national reimbursement.
To achieve the reimbursement milestone in Germany, you should:
Provide CE marking as a medical device.
Provide Privacy and GDPR compliance assessment.
Provide proof of general requirements – including data protection, information security, interoperability, and ease of use.
Prove a scientific evidence evaluation through clinical trials by improving the user's health.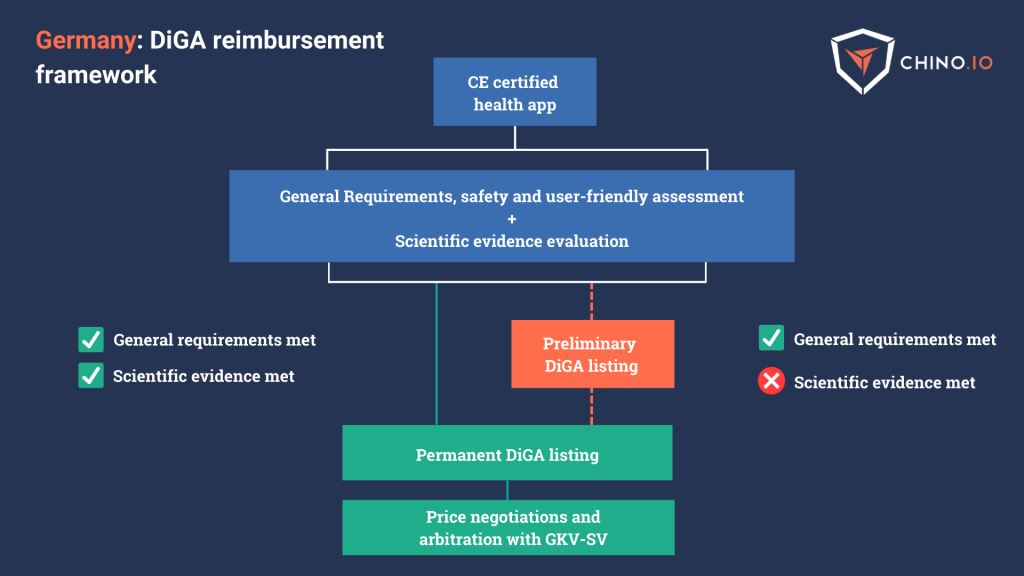 France – following Germany's Fast-Track Process
France announced in 2021 that it needs a fast track to make DTx available and reimbursable by the public health system. A turning point for France and a fundamental tool for diversifying the healthcare services offered that will be ready in late 2023.
To be eligible for reimbursement in France, you need to provide:
CE marking as a medical device.
Privacy and GDPR compliance assessment.
General Health Technology Assessment carried out by CNEDIMT and HAS.
Clinical Evidence Evaluation through clinical trials or studies.
Demonstration of socio-economic added value.
mHealth Validation Pyramid in Belgium
The National Institute for Health and Disability Insurance (NIHDI) set up a pyramidal framework to approve digital therapeutics for reimbursement.
Listed DTx products must reach Level 3 of Belgium's mobile health (mHealth) Validation Pyramid and be evaluated by the Federal Agency for Medicines and Health Products (FAMHP):
CE marking as a medical device and privacy-GDPR compliance.
Risk assessment evaluation for data security, medical confidentiality, interoperability, and connectivity.
Demonstration of clinical evidence and socio-economic added value.
United Kingdom: from NHS Apps Library to DTAC
It was back in April 2017 when the NHS launched its Apps Library. The goal? To provide a database of digital health tools accessible to patients to help them make better choices about care and digital health. However, it was decommissioned almost one year ago, in December 2021.
In its place, we can find the Digital Technology Assessment Criteria (better known as DTAC) that ensure apps and digital health tools meet NHS's clinical safety, data protection, technical security, interoperability, usability, and accessibility standards.
DTx products in the UK require a CE mark and/or UKCA mark, in addition to being GDPR compliant and meeting Digital Technology Assessment Criteria requirements. Digital therapeutics are recognised as Digital Health Technologies (DHT) under the National Institute for Health and Care Excellence's (NICE) Evidence for Effectiveness framework. 
United States – insurance coverage for DTx
The US defines DTx as "mobile software applications used to diagnose, treat, alleviate and prevent diseases or other issues affecting the human body," with most DTx applications labelled as class II medical devices in the United States and regulated by the FDA according to the product's intended use, and level of risk and subject to different degrees of oversight.
DTx are reviewed by the Medical Technology or Digital Formulary Committees who consider:
FDA submission data – is a prerequisite but does not guarantee coverage
Peer-reviewed clinical data – solid clinical and reliable data to achieve coverage and thus justify the pricing.
HEOR data to show cost offsets or cost savings.
In addition to FDA approvals, digital health applications must be HIPAA compliant to exchange Personal Health Information (PHI) with covered entities (hospitals or insurances).