Pear Therapeutics, Inc. has announced that it and its subsidiary, Pear Therapeutics (US), Inc., have voluntarily filed for protection under chapter 11 of the U.S. Bankruptcy Code in the United States Bankruptcy Court for the District of Delaware with the intention to pursue a sale of their business or assets under section 363 of the Bankruptcy Code.
Pear is set to let go of 170 workers, which accounts for almost all of its workforce. The company plans to maintain operations with only 15 employees while it looks for a buyer. Although CEO Corey McCann has resigned from his position, he will still be involved in the company as a board member and consultant.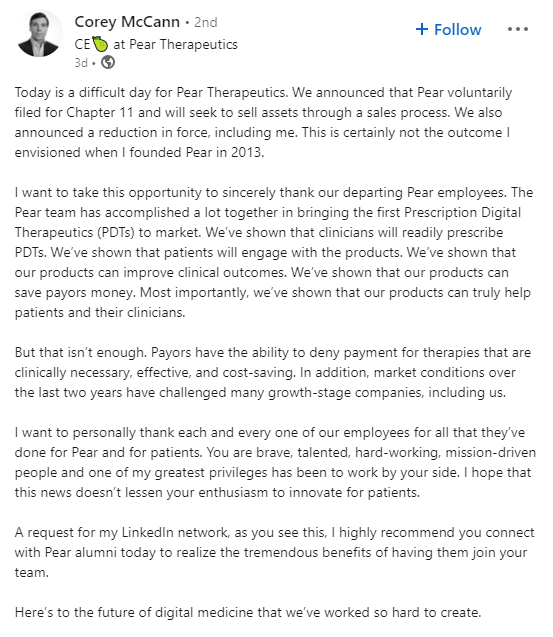 "Today is a difficult day for Pear Therapeutics," CEO Corey McCann wrote on LinkedIn. "We announced that Pear voluntarily filed for Chapter 11 and will seek to sell assets through a sales process. We also announced a reduction in force, including me. This is certainly not the outcome I envisioned when I founded Pear in 2013."
The company evaluated various strategic alternatives before filing for Chapter 11 cases to maximize value for all stakeholders while significantly reducing operating expenses. With bankruptcy code protections, they plan on continuing marketing efforts to potential purchasers interested in specific assets. In addition, they plan on seeking a sale of the entire business subject to review and approval by the Bankruptcy Court and compliance with bidding procedures approved by them.
During Chapter 11 proceedings, Pear intends to continue scaling-down operations while executing an expedited sales process using available cash from a settlement reached prior to filing with their lender to fund post-petition operations and costs in their ordinary course of business.
Pear Therapeutics' history
Pear began exploring strategic alternatives earlier last month and is still searching for a buyer for its assets or the entire company. Despite having prescription apps approved by the FDA for insomnia and substance use disorder, Pear has struggled to meet revenue targets as it introduces a novel form of treatment.
In 2022, the company earned $10.4 million in revenue primarily through agreements with state agencies. At the beginning of the year, Pear set a $22 million revenue target but later narrowed that goal to between $14 million and $16 million midyear.
To conserve cash and focus on selling their FDA-approved products, Pear underwent two rounds of layoffs last year.
Additional information about the Chapter 11 case, including access to Bankruptcy Court documents, is available online at cases.stretto.com/PearTherapeutics
More on Pear Therapeutics