The role with the team based in Italy will strengthen both Italian and international business
Healthware, an international digital health group specializing in strategic consulting, marketing communications, and health technology innovation, has announced Paolo Guglielmoni as its new Head of Experience.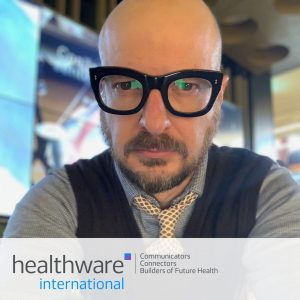 Guglielmoni has 22 years of professional copywriting and advertising experience, gained during his time with Leo Burnett up until 2012, and from his entrepreneurial and consulting activities since then. He has worked on traditional and digital advertising projects for international brands such as Nintendo, Breil, Kellogg's, Lindt, P&G, and Philip Morris, where he also dealt with field and experiential marketing. His diverse experience in the creative world and strong knowledge of both online and offline media led Guglielmoni to devise Action Copywriting, a proprietary method utilizing words as emotional behavior activators that is currently the sole neuromarketing-validated approach. His 2018 work for Yves Rocher based on this technique was included in the YouTube Ads Leaderboard.
Awarded both nationally and internationally, Guglielmoni is the only Italian creative present in the advertising art collection of the Louvre Museum in Paris. He is also a keynote speaker, lecturer, trainer, and professor of Advertising in English at IULM in Milan. In 2021, he published "Brand Health in the Time of Contagion," a book which analyzes the importance of Action Copywriting in maximizing brand performance.
Paolo Guglielmoni, Head of Experience at Healthware International, affirmed:
I'm very happy to be part of Healthware, a group committed to driving the digital transformation of healthcare through innovative communication projects. With my work, I will help brands communicate with a sustainable and circular approach, while maximizing performance and avoiding waste of budget, time, and ideas.
Fulvio Fortini, Healthware International's Managing Director Italy, stated:
Having Paolo at Healthware reflects our group's recent organic growth. We believe his professional path is extremely valuable in a historical moment during which the strategic role of ethical and responsible health communication for more accessible, sustainable, and humane health in the future is globally recognized.