COMPASS Pathways at Frontiers Health 2022
COMPASS Pathways is shaking up the traditional mental health care model as it investigates the potential therapeutic value of its proprietary COMP360 psilocybin product (containing a psychoactive ingredient found in some species of mushrooms), with psychological support, in treatment-resistant depression (TRD) and other mental health disorders.
COMPASS is a mental health care company with a mission broader than psychedelics – to achieve broad and equitable access to evidence-based innovation in mental health care, for patients who are not adequately helped by currently available treatments. They are developing investigational COMP360, a proprietary stabilised, high-purity polymorphic crystalline synthesised formulation of psilocybin, which is being tested in large scale, rigorous clinical trials. They are researching a model that combines medicine, psychological support and digital technologies to provide educational support and guidance for patients and therapists, enabling the scalability and continuous optimisation of the care model.
Our team was recently present at Frontiers Health 2022 and had the opportunity to hear from a panel of leading global experts, brought together by COMPASS, covering the past, present and future opportunities and challenges of these emerging psychedelic therapies.
We are in the middle of a mental health care crisis. Now, more than ever, we need new treatments, new paradigms of care… For many people suffering with treatment-resistant depression but also with other mental illnesses, existing and available therapies simply do not work well enough." – Marco Mohwinckel, Chief Commercial Officer at COMPASS Pathways
The potential therapeutic use of psychedelics
The use of psychedelics spans across millennia. In the 1950s and 1960s, interesting research was conducted on their therapeutic properties, but with the "war on drugs" and global drug scheduling that research came to an abrupt halt. It wasn't until the turn of the millennium that psychedelic research re-emerged, spearheaded by researchers working at some of the leading academic centers in the world. This new era of research is suggesting that psychedelic therapies not only may be safe and efficacious, but that they might also offer rapid and durable effect. Dr David Erritzoe, Clinical Director of the Psychedelic Research Centre at the Imperial College of London, has been leading exciting basic and translational research on psychedelics. During the panel, he offered insights into the scientific hypotheses and results of ground-breaking studies conducted at the center, including randomised controlled trials focused on comparing the results of a commonly used antidepressant, escitalopram, vs psilocybin.
Highlights from the Expert Panel
The importance of combining medicine with psychological support
All panelists agreed on the importance of combining psilocybin, the medicine, with psychological support in this treatment model. We heard from Metten Somers, psychiatrist and principal investigator at the MC Utrecht Brain center, one of the 22 sites across North America and Europe that participated in the COMPASS-sponsored Phase 2b clinical trial of COMP360 psilocybin in treatment-resistant depression – the largest clinical trial with psilocybin ever conducted. Metten highlighted the importance of psychological support for safety and noted that a therapist must prepare the patient for the experience and be present during the administration as the drug's effects last for 6-8 hours. During this time, the therapist does not have to be actively engaging with the patient but needs to be available to offer support and reassurance. Furthermore, Metten noted that:
The participants in our trials were not people that had a special interest in psychedelics – 94% of them were psychedelically naïve, meaning they had no idea of what to expect."- Metten Somers
Where technology comes in
Greg Ryslik, EVP, AI, Engineering, Technology & Digital Health Research Technology, COMPASS Pathways, discussed how technology can be integrated to support patients by explaining the unique nature of the therapy.
COMPASS is in the process of developing natural language processing model that seeks to analyze the anonymised conversations between the therapist and patient and potentially predict patient outcomes weeks in advance.
Like other medicines, we need to be able to objectively measure this [patient's] response and the more objectively we can measure this at scale, the more we can move towards personalised and predictive medicine." – Greg Ryslik
Walter Greenleaf, neuroscientist and medical technology developer and Research Scientist at Stanford University, discussed the potential for VR/AR. He describes these technologies as "on-demand", immersive experiences and notes that they bring an element that is completely different from engaging in something passively, like reading or watching a video. Therefore, there's extraordinary potential for the use of these technologies in psychedelic therapy, both for educating the patient and the clinician, and to support therapeutic effects.
Do psychedelics fit into the pharmaceutical model?
Big pharma has been watchful of this space and could play a crucial role in pushing for both the regulatory approval and scaling of psychedelics. Sahil Kirpekar, Head of Business Development, Otsuka Pharmaceutical Companies (US), a company that has invested in COMPASS, has witnessed a change in perspective and a growing interest by pharmaceutical companies in this space. Until recently, a large pharmaceutical company like Otsuka did not have the opportunity to get involved with psychedelic therapies due to legal restrictions, but with large scale research now possible, more pharmaceutical companies are moving into the space.
Ultimately this comes down to the significance of the unmet need. This is an area of high unmet need and where there is a commercial solution for addressing an unmet need, there is a market, and that's where pharmaceutical companies and investors will go."- Sahil Kirpekar
Fireside Chat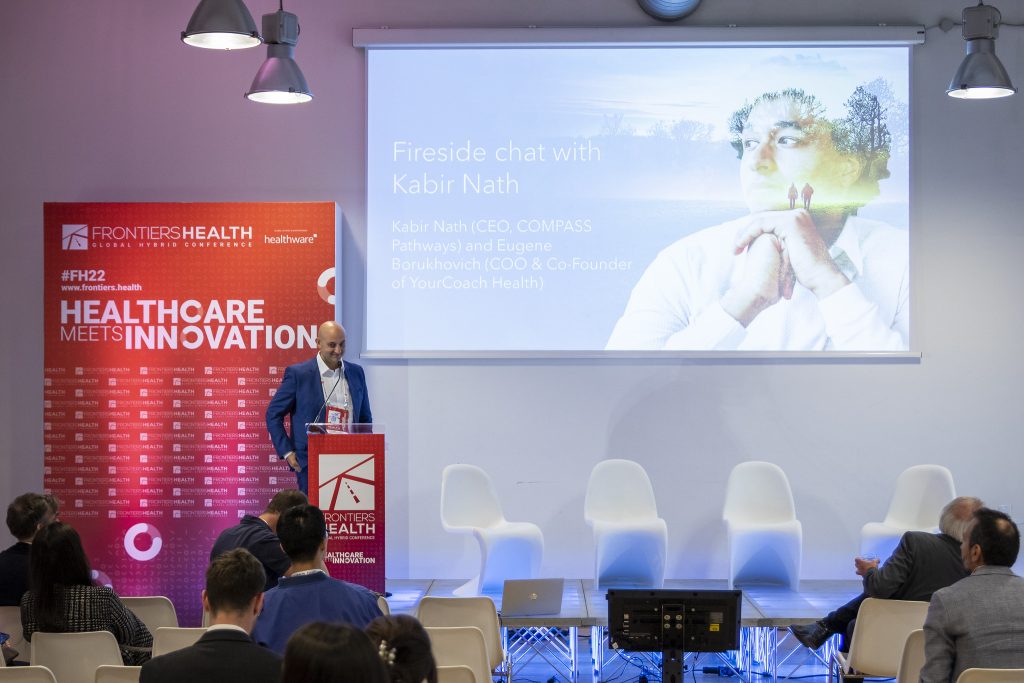 The conversation continued in the iconic Frontiers Health Fireside Chat featuring Kabir Nath, CEO at COMPASS Pathways, and Eugene Borukhovich, COO & Co-Founder of YourCoach Health.
Kabir was first introduced to COMPASS when he was leading Otuska's global pharmaceutical business. He was impressed by COMPASS' rigorous and science-focused approach and its ability to execute trials at scale, e.g., the Phase 2b trial in treatment-resistant depression, the largest randomised, controlled, double-blind psilocybin therapy study ever completed. It was the compelling results of these trials and the shared vision that led him to join the team. Kabir believes there is important work to be done to educate different audiences about the potential of these innovations and balance the excitement.
We have clearly seen that there has been a shift in societal attitudes (towards psychedelics) in general", Kabir notes. At the same time, he called for perspective. "I think there is a lot of hype, a lot of overpromising. We need to have a balance of optimism, honesty, understanding the road ahead, but staying really, really focused on science and on our vision." – Kabir Nath
While COMPASS plans to adapt strategies based on the unique health systems of each country, their preliminary focus is on the US, where collaborations with providers and building proof points to establish these partnerships are fundamental. As a UK-based company, they have also worked closely with the NHS, gaining experience in a system where incentives of providers and payers are more aligned.
The road forward for COMPASS

For Kabir, it's always important to start with the patient experience.
There was talk about the preparation setting and support and how critical the preparation and therapy support is, but again, does that have to be delivered face to face? Who is that delivered by? Is it possible to have that at a different center from where the actual administration session is? These are the questions we have to answer, but it also has to come back to how this experience is right for the patient." – Kabir Nath
Referencing some complexities that exist for COMPASS, Kabir highlights crossing over, subject to regulatory approval, from the clinical trial setting to the commercial setting and providing the therapy at scale as a topic they are working on with payors and regulators. Kabir also highlighted the need to manage excitement and ensure that people don't view psychedelics as a panacea for all mental illnesses. He recognises that they cannot get swept away by the euphoria surrounding the therapy, and therefore, must be realistic while keeping science and patient safety at the heart of everything.
No company can go about revolutionising mental health alone, therefore, help from startups and entrepreneurs from digital health companies will be important for keeping the momentum of innovating in mental health. Due to the key component of psychological support and the increasing mental health crisis, Kabir sees telemedicine as crucial for solving the global issue of chronic deficiency of clinicians. Also, future research must be focused on the identification and use of digital markers to arrive at a better understanding of what works on an individual patient level both in psychedelics and psychiatry at large.
The work that many companies are doing now to understand, on big data sets, some of these relationships between symptoms, between people's personal activity and personal lifestyles and how that could potentially relate to symptoms and stress breaking through as depression, I think that is another critical area." – Kabir Nath
These are exciting times for COMPASS as their rigorous studies could pave the road for FDA approval in the coming years. With extensive clinical evidence, pharmaceutical players moving into the space and a major shift in societal attitudes surrounding psychedelic therapies, it's clear that this new medical model has the potential to move out of uncharted territories into the clinical setting.
However, the journey from studying the medicine to getting it into the hands of the patient will prove to be the next frontier for the company.