Film premiere October 9th. Full release October 10th in honour of World Mental Health day.
Streaming Well and Healthware International have teamed up with mental health experts and Robbie Lyle creator of AFTV a channel for Arsenal football fans, to produce '15 Minutes of Fury' – a short film which aims to reduce stigma around mental health conversations in underserved grassroots communities in the UK.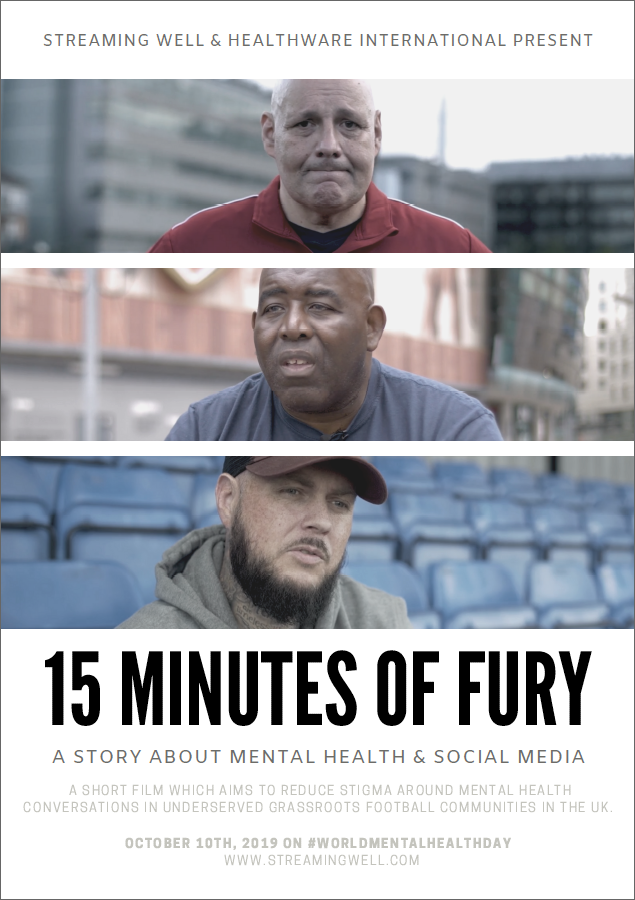 AFTV has more than 1 million subscribers and 700 million views on YouTube. This film will reach that audience with the aim of encouraging men 18 – 45 to talk openly about their feelings.
Pharma companies in Europe have historically shied away from reaching audiences through brand films and content marketing because of fears around violating regulatory codes. But we have seen that with careful planning and skilful execution, pharma companies can effectively promote messages around disease awareness and, in relevant cases, reduction of stigma through film – a medium that will inform as well as entertain.
15 Minutes of Fury explores the emotional impact on football influencers who have found sudden fame via social media platforms. It is my hope their stories will resonate with the footballing fan community in the UK and encourage them to speak out openly about their feelings to their loved ones. – Francis Namouk, CEO at Streaming Well.
Contributors to the film include: Hayley Jarvis, Head of Physical Activity at Mind; Mark Rowland, Chief Executive at Mental Health Foundation; DT, football influencer; Claude, football influencer; Terry Flewers, football influencer; Dr Neil Ewan, Senior Lecturer in Media and Communications at Winchester University; Dr David Giles, Professor of Media Psychology at Winchester University; and Marya Goga, Psychotherapist.
The film will air October 10th, 2019 on World Mental Health Day and can be seen here: https://www.swm.agency/work/15-minutes-of-fury
From the Film:
"It is an issue in football because we all think we're so macho, we just don't talk about these things" – Robbie Lyle, creator of AFTV Fan channel
"Me personally, if I suffered from depression, I wouldn't actually tell anyone" – DT, football influencer
"It's ok to show your emotions at the football and to talk about it there, how about in your daily life?" – Hayley Jarvis, Head of Physical Activity at Mind