In an award ceremony on the 23rd of September, the European Patient Digital Health Awards (PDHA), organised by MSD in partnership with Digital Health Academy and Allied for Startups, announced the winners of the competition. The initiative bolstered the vital role of healthcare innovation at the rapidly evolving intersection of technology and science for both patients and providers.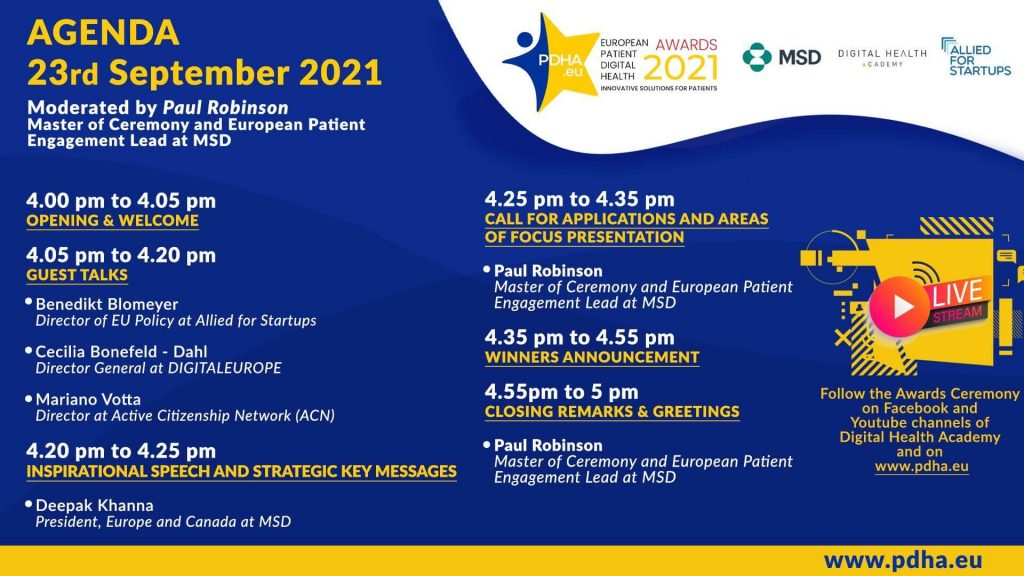 From more than 60 applications submitted from across 18 European countries, a judging panel of patient representatives and startup entrepreneurs, identified the four winners for this edition.
Speaking about the initiative, the partners of the event said:
We are proud to support this first ever European Patient Digital Health Award. It's a celebration of the best of the best in digital innovation and targeted solutions that help patients access quality healthcare solutions, said Mr. Deepak Khanna, President of MSD in Europe and Canada.
"By creating a bridge between the patient community and the startup ecosystem, the European Patient Digital Health Award initiative creates the space needed to address the challenges and opportunities of digital transformation of health and care. It helps develop a common vision of what needs to be done to bring digital innovations closer to people, ensuring that the digital and access gaps get smaller, not wider, "said Mr. Khanna.
Benedikt Blomeyer, Director of EU Policy, Allied for Startups said: At Allied for Startups, we are thrilled to be partners of the Patient Digital Health Awards first ever European edition. It is a unique opportunity to spotlight some of the best digital health innovations, improving the health and quality of life of patients and carers.
We are not the same as we were before. Just think that today there are more than 350,000 digital health apps available, of which only 90,000 existed in 20201. If we are able to fully grasp the potential unleashed in this phase, we can give life to a new healthcare: digital, proximity, personalized, and with more space for prevention, said Cristina Cenci and Antonietta Pannella, Founding Partners, Digital Health Academy.
The Patient Digital Health Awards alongside its partners, MSD, Allied for Startups and Digital Health Academy, will continue to support and shine a light on digital health innovations that improve patient's lives.